8 Jurassic World Decorating Ideas
Wednesday, 24 June 2015 13:45:21 Europe/London
In honour of the release of Jurassic world, on the anniversary of Jurassic Parks original release date, I am dedicating this blog to it! A small sample of decorating ideas for dino geeks and nerds. If you haven't seen it already you should go get on it! the Jurassic world release date is the 11/06/2015 in the United Kingdom and has since released Jurassic Lego and numerous video games, spin-offs and amazing craft/DIY ideas for you to fill your home with.
Here I shall take a look at some inspirational ideas you can attempt to make at home. Hope you enjoy them as much as I did! I have also included a 10% discount code somewhere in this post to celebrate Dino July!
Toy Dinosaur Door Handles
I thought this was a brilliant idea and really opens up (literally) the possibilities for other things! Simply grab some old dinosaur toys and paint with strong thick wall paint in any colour you like. Saw them in half - ensuring the cut is clean and flat and super glue them to your drawers! You can do this for wardrobes, windows and anything else you can think of. Candy Queen Designs have some brilliant ready-made dinosaur door handles to save you needing to make your own if you prefer a quicker option, but I say half the fun is making them yourself!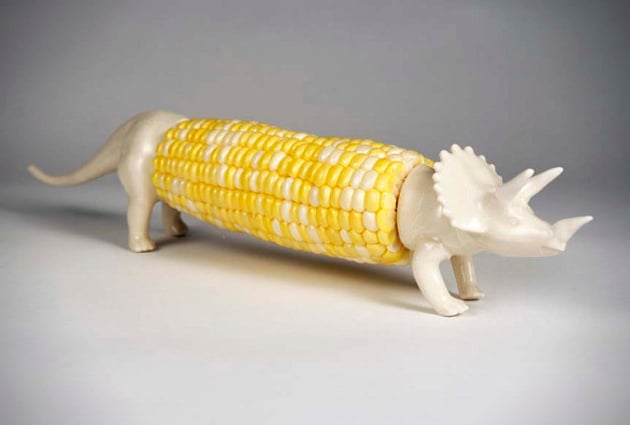 Now you could make these yourselves, but if you want a secure corn on the cob nibble, we suggest you buy the real thing! However if you are up for the challenge I found a great tutorial on Makezine that will get you started. These are a brilliant novelty yet practical idea. The above set were designed by Toronto based firm Imm Living.
This one is a definite must try DIY decoration for home. Grab your kid's old dino toys (or yours, or buy your own from a cheap shop or second hand store). Cut a hole in the back of your chosen dino and sand down the edges as they can be quite sharp. Paint him whatever colour you wish, be sure you get all the little details well covered. Once dry you can fill him with soil and compost and a plant of your choice. Be aware of any holes in your dinosaur that water might drain out of when watering your plant. These are ideal for inside and out and can also be useful for scaring any unwanted visitors!
This is very similar to dinosaur drawer handles, but instead, use the back half of that poor dino your sawed in half and fix a window sucker onto the flat part for your phone to attach to - please remember do not glue your phone to the dinosaur, I wouldn't recommend it! These are great for your bedside table or even for your desk at work. Take a look at this great guide to making your own Dinosaur Phone Holder!
These cake stands would be incredibly easy to make them yourself if you were bored one day and we aren't going to insult your intelligence by telling you how you could make them but checking out the designer who originally came up with the idea is well worth the visit! If you wanted to add a little paint to these white wash versions, you could have your own colourful designs for your cakes to sit on!
Dinosaur Tail Wall Hangers
This is probably my favourite idea and I think these ceramic Dino hangers are beautiful and practical! They could really liven up your hallway or match in perfectly with your child's bedroom decor. Available in a variety of colours or perhaps you could make your own - why not give them a go? You can get them here from Land Of Nod.
Pet Dinosaur Terrarium
I am doing this as soon as I get home! How cool is having your own mini Jurassic world in a jar!? These are very popular and its really easy to find step by step guides on how to make them such as this one on Wattlebird Blog. Imagine the scenes you could make, the more you can fit in your jar the better!
Check out this amazing 3D printed T-Rex shower head, project a torrent of high pressure water from the jaws of death itself. Careful you don't forget you put it there or you may get quite the shock!
Jurassic World Trailer
Discount Code
As promised here is a 10% discount code to celebrate dino July. Simply use the code DINO10 at the checkout and get 10% off on our range of stickers. Check out one of our most popular dinosaur wall sticker below!
Related Product
T Rex Skeleton Wall Sticker Dinosaur Wall Art
Posted in
News
By
Danica Lang